There are ups and downs to any cycle, including the concert cycle. Sadly, 2009 has been more down than up. I don't think i have been to so few concerts since, well, since before this century began at any rate. So it was with some delight that i headed out to see Asobi Seksu at The EARL.
While waiting to get in with chatted with a girl named Lauren who had these really cool cat shoes: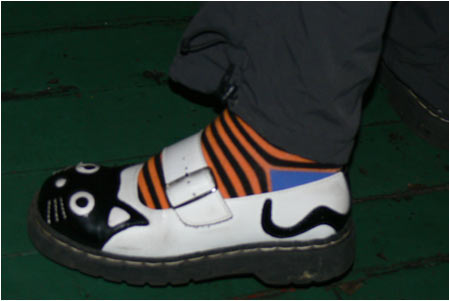 I also found this useful graffiti in the men's room: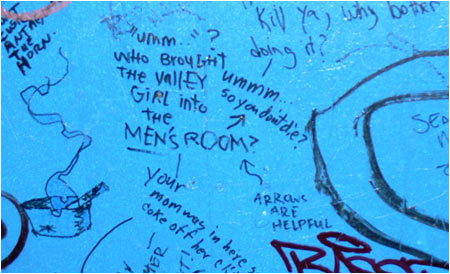 Arrows are, in fact, helpful.
The night got off to a typical EARL start, with door opening being delayed 45 minutes. I was grateful that i had already made plans to go into work late, because i feared the EARL's time delay. But we got in a mere 45 minutes late, and a half hour after that, the first act took the stage.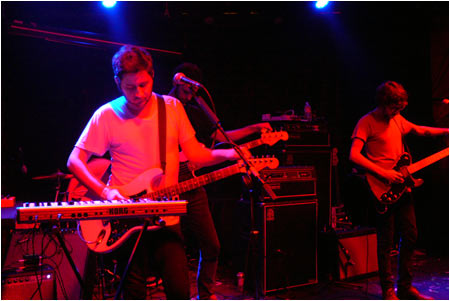 Sealions demonstrate synchronized tuning technique.
Opening tonight were local act Sealions, who i had seen a few months ago. That time i had been pleasantly surprised by their electro prog, so i looked forward to seeing if they could pull it off a second time. Tonight the band walked out with two additional members rounding out the duo i had seen last time.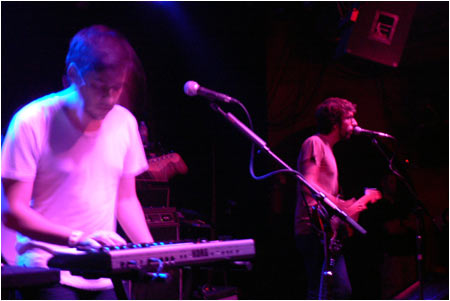 The original two Sealions.
They added a drummer and a bassist/guitarist, which really helped flesh out their sound. They still had a laptop cranking out some beats, but the drummer nicely complemented what was pre-programmed.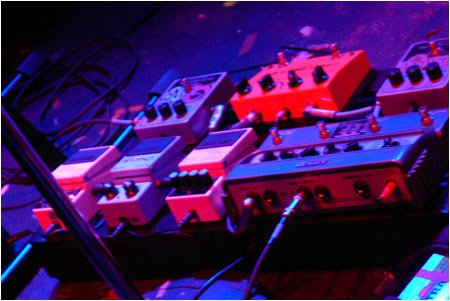 To create the proper Sealions sound, you need a lot of pedals.
They played a set very similar to the one that i remembered enjoying back in May. That is to say, the guitars were complex and distorted, the beats (both machine and person generated) were thick, and the vocals were soaring and vaguely whiny. Again i was made to think of Mike and the Mechanics, an underrated band if ever there was one. The bespectacled singer really sounds like Paul Carrack did on that second Mike and the Mechanics record. At other times they referenced many other bands, most notably on one song that featured a sampled beat very reminiscent of what New Order were doing on Perfect Kiss.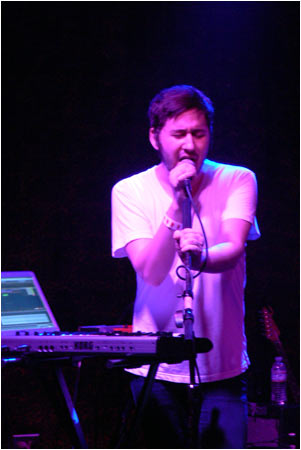 Sealion vocalist NOT sounding like Paul Carrack.
This was another solid half-hour set from this band. They implied that they will have a record out soon, so stayed tuned to EvilSponge for a review when that comes out. This is definitely one of the most interesting of Atlanta's recent crop of bands.
Sealions even tore down their gear rather efficiently, allowing Asobi Seksu to set up all of their gear in about 20 minutes. That is a pretty fast changeover.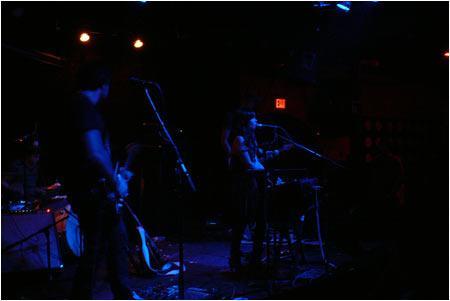 Asobi Seksu in blue.
Asobi Seksu are a four-piece. I think it was even the same four-piece that i sort of saw at SxSW this year. The bassist is very tall (1.5 Yuki's in height, as i realized when she stood next to him to ask him something). The drummer is the same one, i guess -- i couldn't really see a drummer at the Habana grotto stage, so it could be a different guy for all i know. This is very typical of Asobi Seksu -- the band is really James Hanna and Yuki Chikudate, with a revolving rhythm section. Not that this is particularly important.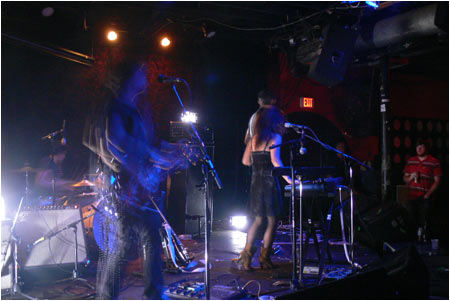 Asobi Seksu in strobe lighting.
The EARL was only about half full for Asobi Seksu, which saddened me. This is a great band who make intricate yet catchy songs. I guess a Thursday night show does keep the crowd down, but still!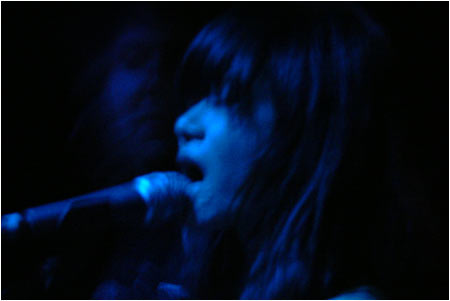 Yuki, with the barest hint of James visible behind her.
They played beautifully. The set was heavy on their recent LP Hush which is not, i must admit, one of the most easily accessible records that i have ever heard. Asobi are doing some complicated things with layering and melody, and i can see how that might not appeal to people as easily as, say, Citrus, which was the best shoegazer record since Slowdive broke up.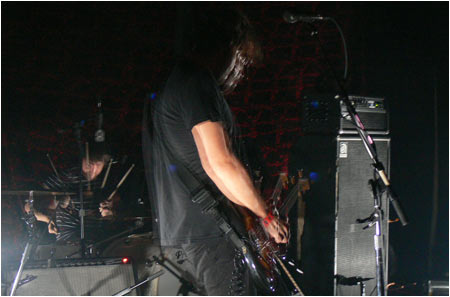 James Hanna in action.
The played Me and Mary, which i was not impressed with when it was released as the first single from Hush last year, but which came across well on stage. It is a nice catchy tune with a good, repetitive chorus. They even did Glacially, which might have been the first time in the dozen or so times i have seen them that guitarist James Hanna actually took lead vocal live.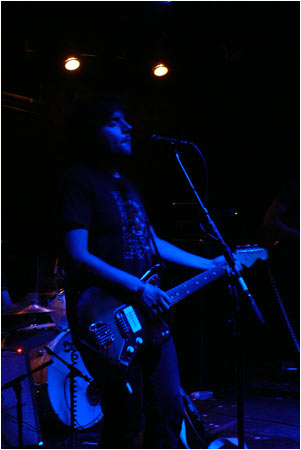 Guitarist James Hanna.
They also played Layers, the first song on Hush. This starts very slowly and builds to a slow frenzy with Yuki pushing her voice in odd directions.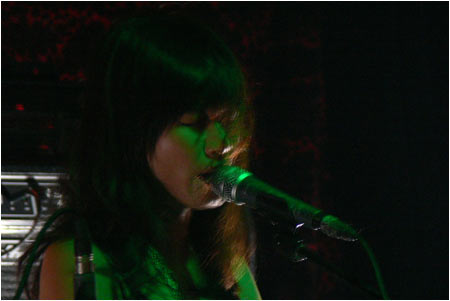 Yuki Chikudate in singing action.
It is a song that really grew on me, and i think they pulled it off rather successfully. The live version of Sing Tomorrow's Praise also worked really well. Oddly enough though, it was a sped up version of Meh No Mae, which Ms. Chikudate sings in her ancestral tongue, that really got the crowd going. I would not have guessed that a Japanese language tune was the popular choice off of the album.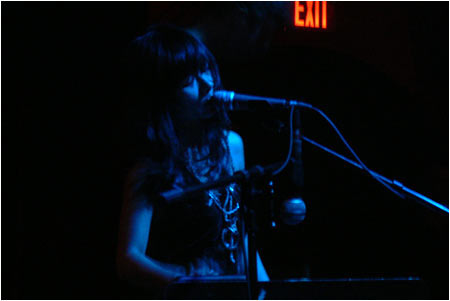 Yuki Chikudate in blue light.
They ended the show with a real feedback frenzy, just as they did in Austin. Hanna hammered at his guitar and tweaked every distortion pedal in his arsenal, while Chikudate beat the drumkit angrily. Nicely done.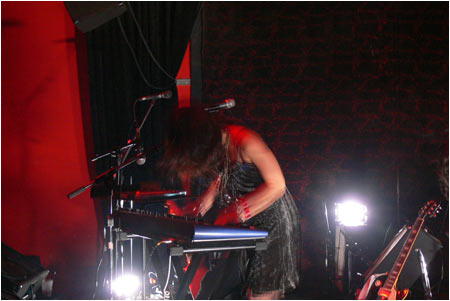 Yuki rocking out on her keyboard.
Overall, i would say this was another fine show by this band. Not the best i have ever seen by them, but still better than what a lot of other acts are capable of.