I always look forward to seeing Balmorhea. The band consists of some very talented musicians who make lovely, mellow music that is not exactly like anything else out there. I guess they are "Mogwai doing classical music" if you need to fit them into a box. I find them to be very interesting, though.
There was only one opener tonight, which is great on a worknight. The opener was one guy with a cello, who played as Takenobu.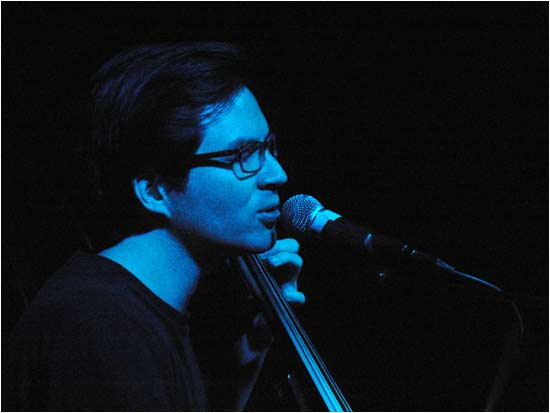 He explained that he normally had a drummer and a violinist, and to be honest i think he missed them tonight. He played cello, and he was very good at it. He played some slap cello, beating the strings and wailing the blues. He played some country cello, somehow drawing a twang out of the bow while singing with Southern phrasing. Some of the tunes were pop, and one seemed to almost rock a little.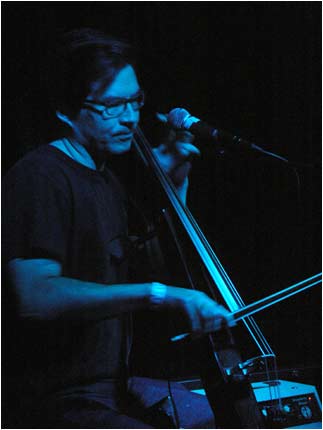 I just found the music to be ... too sparse. With just a simple drum loop, the cello, and his voice, the songs seemed anemic. A live drummer and a violinist would have helped flesh out these songs. Oh well.
The opener being just one guy, Balmorhea took the stage almost immediately after he left. But then something odd happened. There was a guy with a big camera filming the show.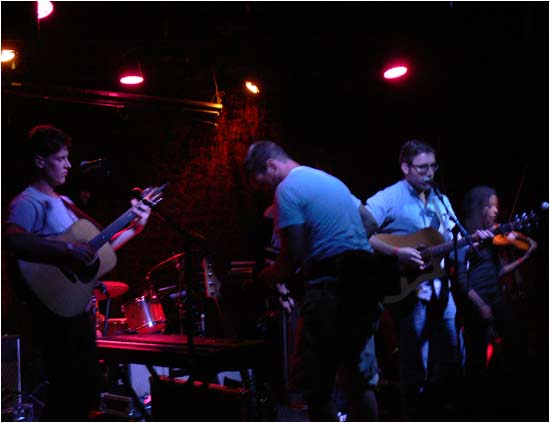 That is the cameraguy in the middle, although it is hard to see the camera in this shot.
Sorry about that.
He climbed on stage to get close the band, panned over the crowd, and supposed filmed me taking photos of Balmorhea for this review. At first i thought that Balmorhea were making a video, but Tracers asked the bartender what was up. Apparently this was a Travel Channel film crew for Anthony Bourdain's show The Layover filming in preparation of his appearance at The EARL. And we knew he was in town, after having swung by The Clermont Lounge the night before. Sadly, Mr. Bourdain did not make an appearance when we were at The EARL. Oh well. Maybe i will be edited into the episode anyway, taking photos of post-rock bands.
At any rate, the presence of the film crew seemed to make Balmorhea a little nervous.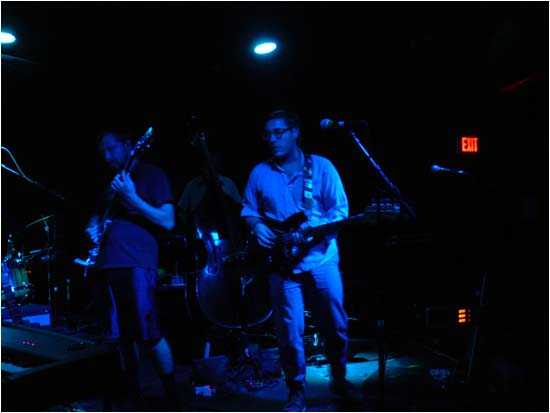 They barely spoke to the crowd, and instead focused on their music, which was, to be honest, awesome. They played a lot off of Stranger, their brand new record. Stranger seems a little more guitar heavy than previous releases, the band relying less on piano to carry the songs. This came across really well in concert as various band members shifted around to take different guitar parts at different times. I remember that Fake Fealty really came across well live, the acoustic guitar blending with the soaring violin, all eventually overpowered as the overdrive pedal comes in. Lovely.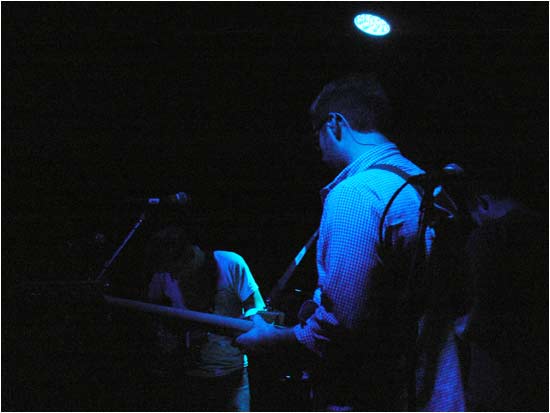 They also did a gorgeous rendition of Night Squall that grew wondrously to a glorious, messy climax.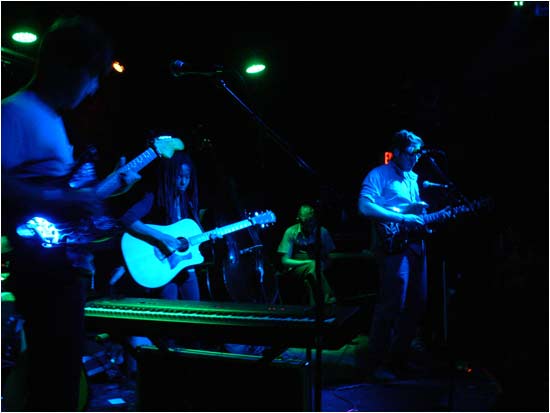 Once again, i was very impressed with a Balmorhea performance. If the idea of a classical post-rock band appeals to you, then you definitely need to check this band out live. They do not disappoint.
Here are some more pictures of the band.