The next act was one we had heard of, but which neither myself nor Tracers had ever actually heard. Their name kind of scared us of: Say Hi To Your Mom. Oh, was this to be overtly goofy rock? Perchance performed by stoners who think their smoke-laden humor is oh-so-funny to everyone? We weren't sure what to think...
But the act set up as a three-piece, with a drummer, a keyboardist, and a guy with a guitar and a microphone.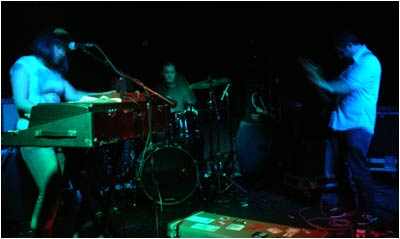 Say Hi To Your Mom, from The EARL.
As they started to play, we gravitated forward, drawn in by catchy songs that walked close to the border of synthpop, with lyrics that are witty without seeming strained. By the time they introduced a song as being about "Vampires, but not the creepy kind", they had us, as we bounced along and sang, "And iiiiiIIIIIIiiii want to suck your blood".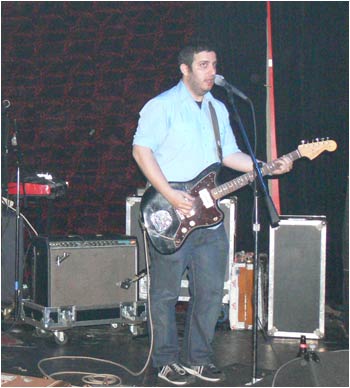 He' might be a vampire, but not a creepy one.
Wow. This band was amazing. Where has Say Hi To Your Mom been all of my life? After their set, we both bought their latest record, and i got a bag of buttons from them. They seem like nice people too, and their performance was everything i like. It had catchy rhythms from the drummer, whose eyes rolled back in his head ecstatically as he played. It had delicate male vocals, at times reminiscent of The Blue Hour. It had silly keyboard melodies, and a Korg used as a bass. What's not to like?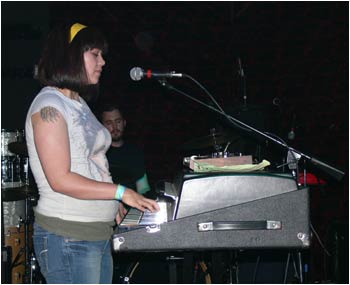 You can't have synthpop without the synths, right?
Their set, however long it was, was too short. I urge you to check this band out when they come to your town. You won't regret it.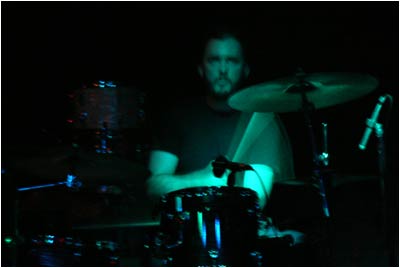 Drummer Zod says, "Kneel before Say Hi To Your Mom!"
After that surprisingly wonderful set, a band we had seen a week before set up. +/- had a different lineup tonight than they did last week at the Habana Calle 6 grotto, with guitarist Patrick Ramos replaced by his understudy, who actually performed with +/- the last time they played Atlanta. Wow, that's a confusing sentence. Maybe we need some sort of diagram to figure out their lineup...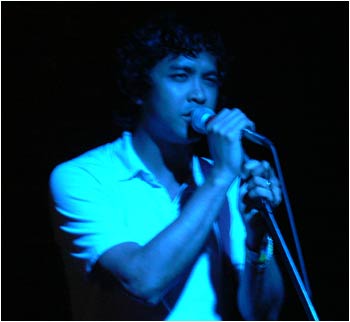 +/-can be earnest at times.
Anyway, +/- pretty much played the same set of songs off of Let's Build a Fire, their most recent record, that i had already seen twice on this tour. I will give them this: they are a tight, very professional band. The songs sounded great, and The EARL got rather crowded with people coming to check them out. Good for them. +/- are a talented act who write catchy, if somewhat quirky, tunes, and they play them well. They always put on a fun set, and tonight was no different.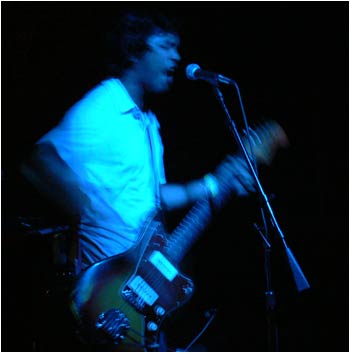 +/- can rock out at times.
After +/- were done, i had seen three great sets, and would consider this night a great success. But there was one more act to go, an unknown-to-us band by the name Bishop Allen. They set up as a 6-piece, with drums, acoustic guitar, bass, xylophone, keys, and electric guitar.
They played a set of very catchy indie pop. I was standing, there, thinking they were okay, when suddenly they played a brilliant tune. It was called Like Castanets, and featured a delicate vocal, Spanish rhythms and guitar (obviously), and a very beautiful chorus sung in Spanish. Simply wonderful.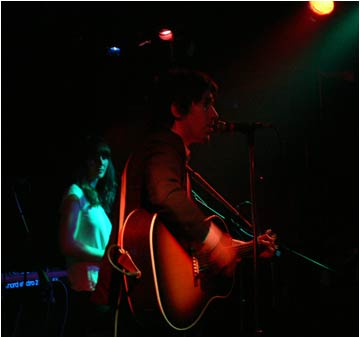 Bishop Allen: A Spanish guitar for a song in Spanish?
They played more, and none of their songs were bad, but they never again reached the heights of beauty that they had climbed while singing Spanish. At least for me.
And so, too late but very well pleased with the evening, we headed out. A very fine night, and all of these bands are acts i will seek out the next time they play Atlanta .