Focus Wales is like a small scale Welsh take on SxSW where numerous artists play in a number of different venues in a North Wales market town. As well as showcasing major acts such as Krautrock legend Michael Rother and Welsh pop diva Charlotte Church, it also provides some much needed exposure to the numerous talented local acts such as Camera, The Roseville Band, Heal The Last Stand, The Uninvited, The Revolutionary Spirit, and The Fag Machine whose recently released album, Daylight Saving, is a must for lovers of quality post-punk music of the early Magazine variety. It's surely one of the best debut LPs you'll hear all year.
Although Focus Wales is a four day event, I only made it to the last two days. Amongst the acts I caught was charismatic Canadian banjo player Darren Eedens and his finely tuned moustache, who got a great reception in a good old-fashioned British pub, The Royal Oak. He was followed by Northerner Dave Owen who treated us to a George Formby/music hall-like set with comic lyrics that incorporated some good old fashioned double entendres. I wouldn't chose to listen to this at home, but it was hard not to be won over by his unmistakeable cheeky charm.
It was, however, the final day that I made a real effort to attend. I arrived at the Museum early for a Q & A session with Michael Rother who spoke respectfully about his differences with his former Neu partner Klaus Dinger, a man he called the Little Richard of the drums, stressing that these differences were personal and not musical. ("He was a great musician but I couldn't stand him" was basically what he said). It was a conversation that was not without humour, though. He smiled when it was suggested that an underground act normally has to die to be so revered thirty odd years later and when asked how it felt that those albums to be so highly rated after all this time he said "I'm not bothered to be honest," which got a big laugh from those of us there.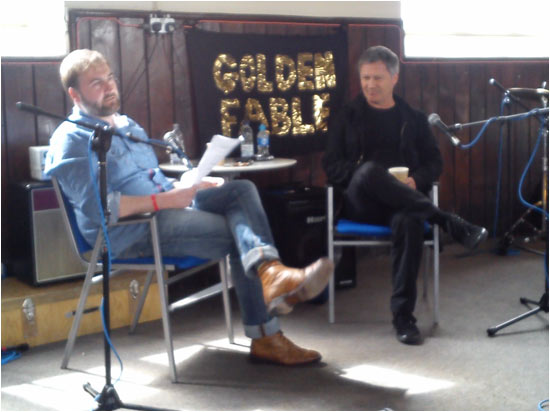 After a quick tea break, I returned to the Museum to catch local folk act Andy Hickie put in a quality set that mixed his own stuff in with some more traditional stuff and a Dylan cover. Several numbers featured his wife Mel on additional vocals with the two voices bringing out the best in each other.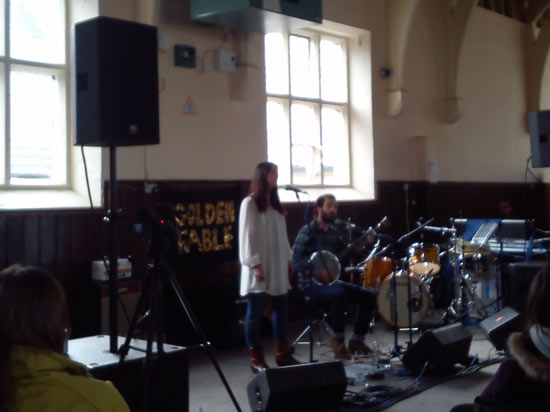 They were followed by Duneo's low key set which had moments of beauty, consisting of Jeff Buckley-style vocals over some shimmering Durutti Column-like guitar, with this young Welsh artist aided on the last two numbers by Gretta Isaac.
I've enthused about The Golden Fable before.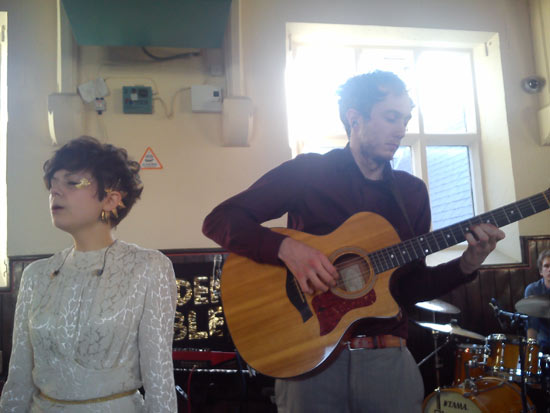 It's hard not to just rabbit on about how beautiful Rebecca Palin's voice is which probably does a disservice to the quality of their material and to the contributions from guitarist/vocalist Tim McIver, but...well it is an incredibly angelic voice that is bound to grab the attention. The opening number, Always Golden, had a much more full-on sound than I remember from seeing them last year. However, there were also more stripped back numbers. Highlights included Southern Climes, a new number which had been commissioned for this event, and Chill Pt 2, which was so achingly beautiful that there were tears in my eyes. I was in the front row and was all too aware how embarrassing it would be if they saw me blub. Incidentally, they also played their new single, Crossfire, which is, once again, rather lovely and well worth picking up for the various mixes.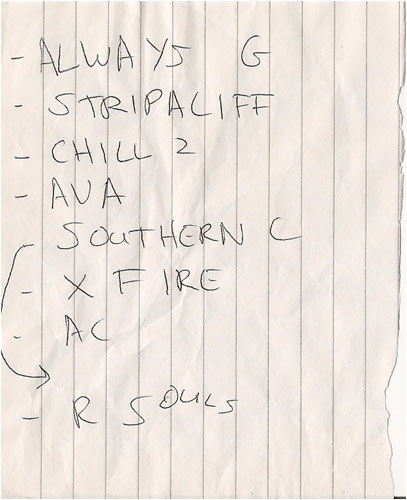 Golden Fable's somewhat cryptic setlist.
After a quick chat with the aforementioned Darren Eedens in a local sandwich bar, I made my way to the town's main venue, Central Station. JKLMNO were already on. Initially, they sounded like early Radiohead with added vigour before peaking with their two final numbers which both benefitted from more stomping beats.
Meilir is hard to describe and I mean that in the best possible way. I'd go as far as saying the guy is pretty much an original.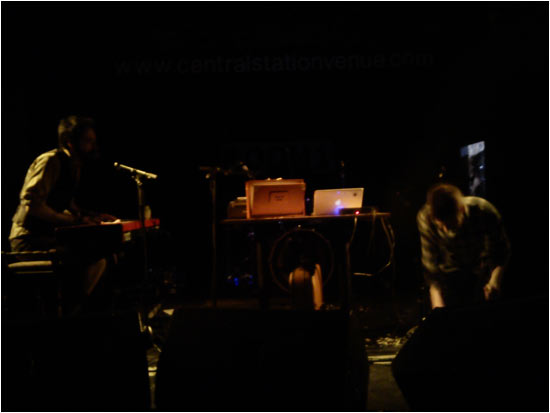 Indeed the best comparison I could make is imagine a cross between those left-field Teardrop Explodes b-sides and 10cc's Kevin Godley having a mournful, avante garde stab at some madrigals, but even I'm not convinced that this is totally accurate so just go and listen to him for yourselves. The best numbers were when Meilir played the keyboard whilst Jonny Gumbo assisted him by playing a xylophone, some weird instrument or hitting gravel with drumsticks. That may make it sound wacky but it wasn't. It was rather beautiful as is the 2011 album, Cellar Songs, I finally purchased after the show. Definitely recommended!
By The Sea played some flowery sunshine pop, but I'll admit I was already thinking of what was to come and left them to it so I could get a decent vantage point at the main stage. It was worth it, too, because Rother then came on and played a blistering set. He got a cheer when he made his entrance as is to be expected, but the crowd then rose again when those trademark motorik beats first started. And apart from Neu 75's beautiful Albatross-like Seeland those beats didn't let up, varying only in speed and power but never in quality as the drummer stood hunched over the drums beating them as if the spirit of Dinger resided inside him. It sounded great live and, to be honest, most of the audience found it hard to stand still. I've waited a long, long time to see Rother live and I wasn't disappointed.
Here's to next year's Focus Wales.