It says something for the popularity of M83 that the band was able to fill The EARL on a school night. Heck, they were able to drag me out of the house after 10 PM, which is a serious feat given that i get up at 6 AM to get ready for work. I know that i complain about the stupid lateness of EARL shows a lot. Maybe, eventually, they will listen to me…
Opening act The School of Seven Bells is not one that i was familiar with going into the show. Promoter Alex Weiss seemed surprised at this, as the band get compared to Cocteau Twins, and he knows of my rabid fandom. These days i have "Yeah, prove it to me!" attitude towards Cocteau-comparisons. It seems that the secret to getting compared to Cocteau Twins is to use guitar effects and have a female vocalist. There was a little more to the band than that, so i will continue to be skeptical.
And yet, after seeing them perform i can kind of hear it in the School of Seven Bells sound. There is hint there, along with some Curve, some Strawberry Switchblade, some Guitar, some Ulrich Schnauss, and some High Violets. All of that, mixed together, makes the School of Seven Bells sound.
They are a three-piece act, all in goth black attire. Two girls at either ends of the stage, one on keyboards and running the drum machine, another on guitar, and a guy in the middle energetically playing guitar while the two females stand like statues.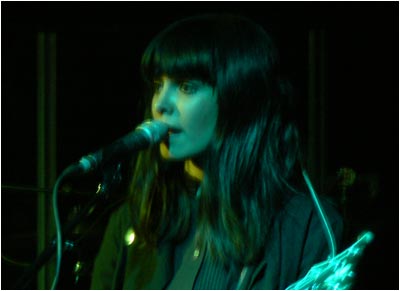 Female Guitarist in School of Seven Bells.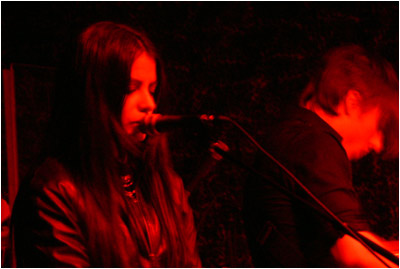 The female keyboardist in School of Seven Bells.
The beats were throbbingly loud, and the guitars were a whirl of noise. The two girls harmonized well. I found them to be very interesting. I liked the sound a lot -- this band takes a lot of things that i like and mixes it all together to make something that is still unique and fresh enough to not seem purely derivative, but still appropriate enough for the genre. I am very curious to hear their album at this point.
And here are photos of the same two women, now with reversed lighting: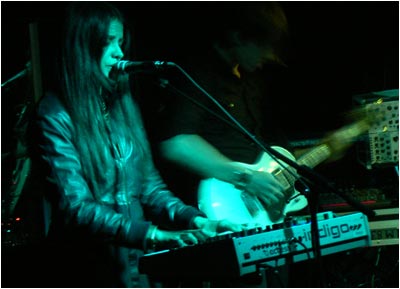 Keyboard sister in blue light.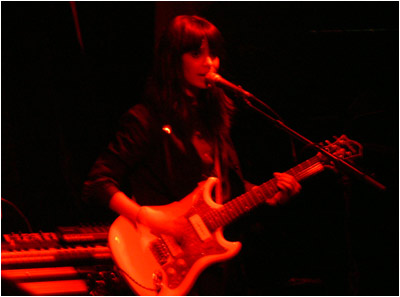 Guitar sister in red light.

School of Seven Bells were a worthwhile opener, and i thought this was a good omen for the evening. You see, M83 is really a one man act. It is Anthony Gonzalez, who is of course French. Much of their recorded output is computer generated. That is, M83 is a synths and drum machine sort of act. Sure there are occasional vocal bits, but those could easily be sampled.
And yet, on the latest M873 record, Saturdays = Youth, there was a real band feel. There were more voices, and actual singing instead of just recited bits of dialog (although there was some of that as well). It seemed so much less electronic than what had come before. I was curious to see how it would come across on stage, and even what type of band he would bring with him. To do the songs on Saturdays = Youth there had to be a female vocalist.
So what would M83 be like live? I had no idea, but i was very curious to find out.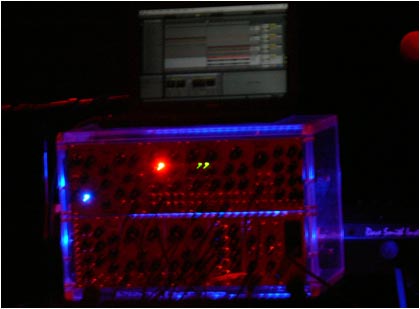 The Cube that sat on stage, glowing, before M83 started playing.
At about 10:30 Gonzalez came on stage alone. He played with a bunch of electronics in a glowing cube with a laptop sitting on it. The song was something that sounded like it came off of one of the earliest records. It was a nice drone built of layers of synths with a light beat behind it. It sounded really great.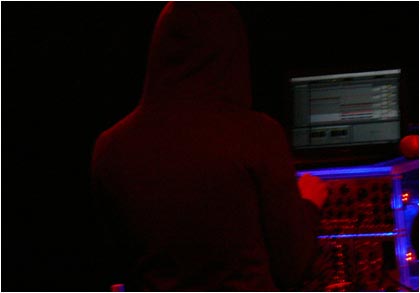 Anthony Gonzalez works The Cube.
And then three more people came on stage. One guy had a guitar, while Gonzalez grabbed a guitar himself. A girl stood behind a microphone and several keyboards, and there was a drummer who seated himself behind a plexiglass wall. The wall seemed out of place at first, and yet the inertial force of the drum beat still caused the laptop to fall off of the electronics cube at one point. Fortunately the female keyboardist caught it before it could fall and break. I wonder if that would have ended the show?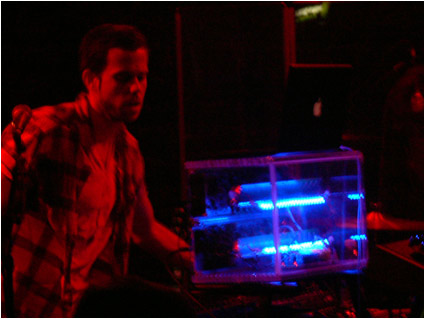 Anthony Gonzalez and a rear view of The Cube.
Anyway, now as a four-piece act, M83 tore into a lovely set of 1980s derived synthpop. They played Kim and Jessie as about the third song in, and that really is Gonzalez singing on the record. They played Graveyard Girl, with the sampled dialog something that came off of the laptop, but perhaps mixed a little too quietly for a live club. We Own the Sky was rollicking good fun, with Gonzalez and his guitarist playing off of each other very well. And they played Highway of Broken Dreams, which came across really well, even if i could barely hear the introductory dialog.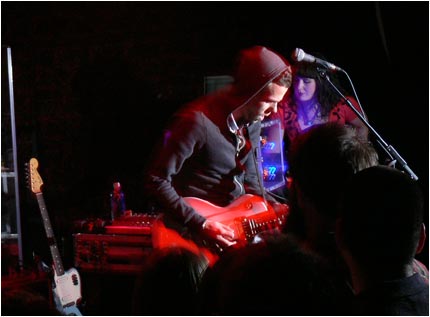 Anthony Gonalez shows the crowd at The EARL his guitar-playing skills.
In between those tracks from Saturdays = Youth, the band played lovely tunes from across the M83 catalog. I thought it came across remarkably well, even the long, droning, ambient instrumental piece the band ended their set with.
Overall, they played for just over an hour. A lot of the music was good 80s dance music, and yet no one really seemed to dance. The EARL was crowded, but people seemed to just sway in place rather than busting a move. (Brendan's Note: Hey, at least they weren't standing around like a bunch of posts.)
Either way, it was a very fun show.