RazorBern and I missed most of the She Wants Revenge set, because we were sitting in Purgatory.
We arrived at The Masquerade just after the alleged 8:30 PM start time to see The Psychedelic Furs with opening band She Wants Revenge. While checking out the merchandise stand, we noticed T-shirts for a third band, HK Army. Since neither of us were particularly excited about standing up through another opening band before seeing the two bands that we were there to see, I suggested to RazorBern that we venture down to the bar area (Purgatory) on the second level of The Masquerade and sit while the first band played. We were happy to see some unoccupied sofas and chairs at the front of Purgatory and we proceeded to relax as we heard the first band begin playing above on the Heaven level.
After talking with RazorBern for a while, I realized that the music I was barely hearing upstairs sounded familiar. We left Purgatory, hurried upstairs to Heaven, and, to our puzzlement, saw She Wants Revenge onstage. I have no idea what happened to HK Army, or if they were even a real opening band, but I was disappointed that I had missed most of the She Wants Revenge set. Having seen She Wants Revenge in concert before, I had looked forward to seeing them again.
Fortunately, we were able to see She Wants Revenge play their final four songs. I was impressed with one brand new song that featured more guitar than the previous She Wants Revenge material. The final two songs were Out Of Control and Tear You Apart from the bandís first album.
After She Wants Revenge left stage, we made our way to the front of the crowd and found a spot next to the stage. We didnít have to wait very long, because, in the tradition of the new timeliness of The Masquerade, the breakdown of the previous set was quite efficient.
The Psychedelic Furs took stage and began their set with Love My Way from the Forever Now album, just as they had in October of 2009 when PostLibyan and I saw them at this same venue. Richard Butler, who had emerged onstage with a graceful bow, immediately inspired the crowdís enthusiasm as he jumped about the stage in his animated style.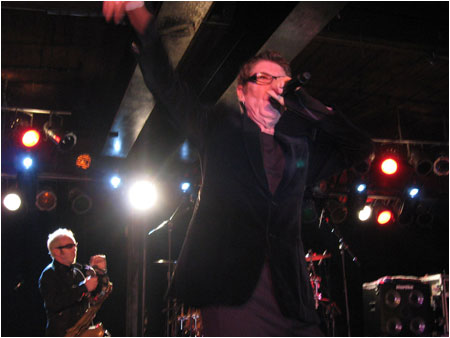 The energetic Richard Butler.

My memory for the exact order of the setlist fails me, but the songs are as follows:

Love My Way
Believe (a track from Richard Butlerís Love Spit Love project from the 1990s) Like A Stranger
Something
Sister Europe
It Goes On
President Gas
The Ghost In You
Here In My Head Heaven
I Donít Want To Be Your Shadow
All Of This And Nothing
Heartbeat
Pretty In Pink

Encore:
(a new song???)
Forever Now

The current lineup of The Psychedelic Furs [Richard Butler, Tim Butler (bass), Rich Good (guitar), Mars Williams (saxophone), Amanda Kramer (keyboard), and Paul Garisto (drums)] consists of a few key players from the bandís late 80s incarnation. As with The Psychedelic Furs show from last October, saxophonist Mars Williams managed to command almost as much attention as Richard Butler.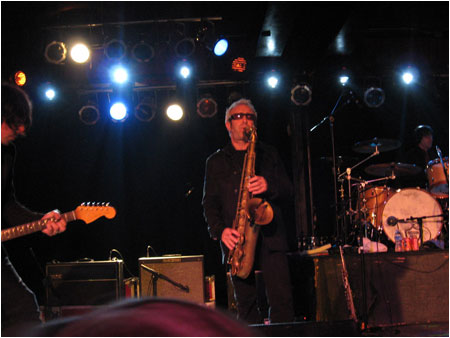 Mars Williams on the sax.
Thankfully, Richard Butler was in superb form throughout the night. Butler is an entertaining front man, to say the least, as he moves constantly from one end of the stage to another and makes hand gestures to signify each and every lyric.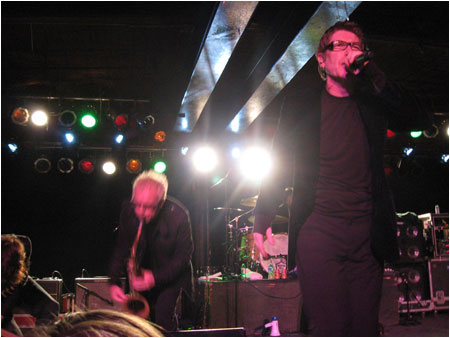 Butler and Williams in action.
The Psychedelic Furs once again did a great job of mixing hit songs with more obscure album tracks. For me, the set highlights were Heartbeat, All Of This And Nothing, and my favorite Furs song, Heaven. Forever Now was a perfect way to end the night.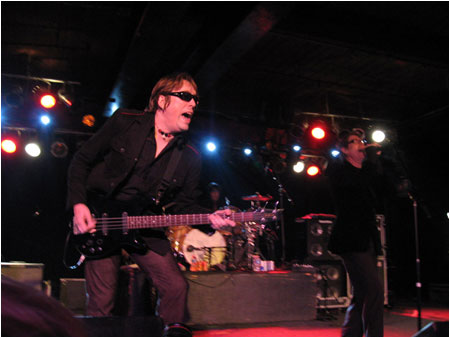 Tim Bulter in action.
The Psychedelic Furs have always been one of my favorite bands and Iím always grateful to see them touring in such fine form these days.