So after getting up at an ungodly hour ( 4:45 EST ), PostLibyan and I flew to Dallas , where, we disembarked and went to get our rental car. It was supposed to be a compact car, so I was thinking a Neon or something like that. Instead, we got an Electric Blue PT Cruiser. O.K., now that's cool. The only thing more Indie Rock than this vehicle would have been a Mini.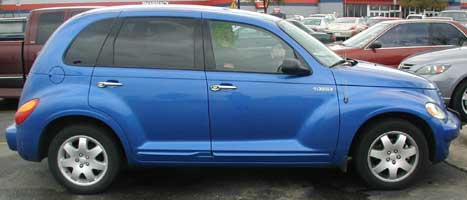 Anyway, we loaded up and trekked on down to Austin …roughly 210 miles. Youch, what a drive. I don't know what we were thinking when we almost decided to drive from Atlanta to Austin . If a 210 mile drive seemed long, think about what a ~ 1100 mile drive would have seemed like.
So we reached Austin …and our room wasn't ready. Egads! I'd been awake for nigh unto forever, and all I wanted was a nap. But, it's not the hotel's fault, really, in that guests weren't checking out on time. So to kill time we wandered around downtown Austin in search of coffee and the registration booth. Both goals were accomplished fairly quickly.
But after registration we trekked back to the hotel where our room…still wasn't ready. Sigh. After some wrangling, and some help from the front desk, we finally managed to check in, wherein our free Internet connection wasn't working.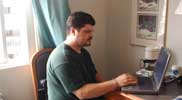 Lack of easily functioning Internet capability thwarted EvilSponge's
plan to do posting from the festival. Oh well.
Dammit. In my real life, I work on servers and networks, so I was able to fix things in short order. With all of that now set, I took a nap, and then we prepared for the evening.
Around 8 or so, we headed off in the PT Cruiser to a pre-SXSW show at the Hole in the Wall, where one of my new favorite bands, Austin 's own Hitchhike, were planning to play. The lead singer of Hitchhike had warned us that, since things were free, it would get crowded fast. And indeed, once we reached the bar, it did get crowded. I, the short little girl, was stuck towards the back of the crowd, so I couldn't see anything. But you know? It didn't bloody well matter, as I had a relatively open place to stand.
The first act was a singer-songwriter named Jon Nolan. He was rather good, with nice crowd interaction and good songs. Of the three songs he played, the second, a song about being broken down in a van outside Hope Arkansas was the standout.