I am an Atlanta Indie Rocker at heart, and my home away from The Condo is at The EARL. I am not now, nor have i ever been, a fan of the club scene in Buckhead. I rarely make it out that way anymore, but every once in a while a good show will drag me.
Doors for this show were at the ungodly hour of 7 PM. I showed up at 8:12 to find that the first band, Louis XIV, was already performing. I witnessed 2 songs, and then they were done. And to be honest, two songs was enough. The music this act does is more of the same of that over-played, hard blues rock that seems to infest the world these days. I don't mind The White Stripes so much, but i am sick to death of their progeny.
Louis XIV are noteworthy for two things. Firstly, they had two guys playing violin, which is not something that you see that often. To be honest, i couldn't really tell what having that second violin added to the sound, especially over the grinding guitar chords. Secondly, one of the guitarists was a scruffy looking guy in a hat who only sang in falsetto. It is as if he was the female backing vocalist for the band. The juxtaposition between his macho image and high voice was rather striking.
Overall though, i was not impressed with this act. However, the crowd seemed to get into it. Good for them, i guess.
During a half hour break i was able to locate Inspector Jason and my photographer, Frank Herbert, in the crowd. We stood, yelling a conversation over the crowd noise and deafening interstitial music. And then Hot Hot Heat took the stage.
I am not really familiar with this act. Malimus has sung their praises often enough, and i own one CD. I can't name a song on that CD, although i did keep it during my massive pre-move CD purge last year. I remember that i liked it, but nothing stuck in my memory. Oh well, that happens. And i have to admit, i was curious to see them.
Hot Hot Heat are a four-piece band of drums, guitar, bass, and organ/vocals. The vocalist played the organ only occasionally, mostly he bounced around the stage while singing. He was very energetic, and their music was catchy and generally pleasant. I wouldn't say that they are the most innovative band, but they are certainly good at what they did. And what they did was a vaguely Ben Folds Five style of piano-driven pop rock.
The crowd really got into it, with people dancing and singing along. I admit that i was taken with their live performance, and when after a mere 32 minutes, they left the stage, i exclaimed to Frank Herbert, "That's it?" I think it a high compliment that i am not ready for a band to be finished performing when their set ends, and Hot Hot Heat certainly could have played longer. Oh well, now i know that they put on a good live show, and can look for them to come back.
At this time, with two bands done, it was not yet 9:30. How very odd. They certainly run a tight ship at The Roxy. And sure enough, just before 10, a mere hour after Hot Hot Heat had started, the venue dimmed and Editors took the stage.
This is another four piece band, with guitar, drums, bass, and vocals/guitar/piano. Live, the guitar sound was a lot more U2-ish than it comes across on record, and with the voice not mixed so over the rest of the music, his voice is not so deep and Interpol-y. Still, they sounded excellent tonight, their music soaring with epicness.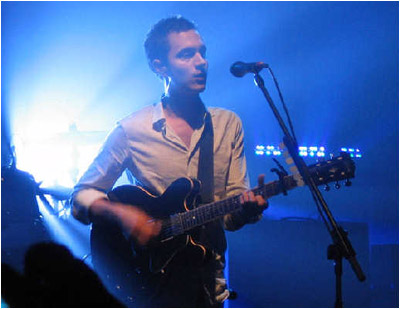 Blinding stage left.
They played excellent versions of Smokers Outside the Hospital Doors and An End Has a Start, as well as most of the rest of their second album. There were also a couple of tunes that i recognized from the few times i have heard their first record. It was a good solid set, lasting perhaps an hour.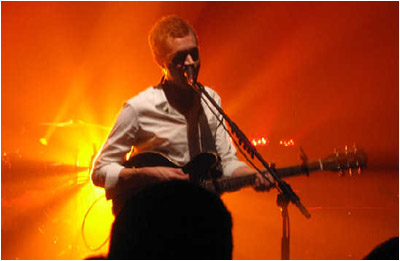 Blinding orange lights.
One thing that was disconcerting was their stadium-quality light show. They had some serious lights going on, often shining directly through the band and effectively blinding the crowd. Also, several times they had the lights flickering in a strobe effect that, to be honest, gave me a headache. There should be a disclaimer warning epileptics away from the show!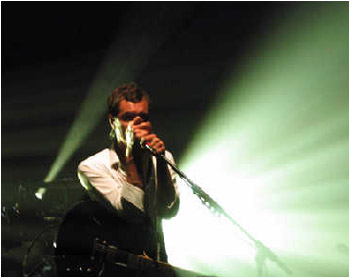 Blinding only stage left.
Overall, this was a good night. Editors play huge rock songs, and play them well, while Hot Hot Heat play quirky, energetic pop and do it well. Two fine sets. We'll just ignore that derivative opener.