Review:
Much like my fellow reviewer PostLibyan, I discovered Portland band Say Hi to Your Mom in early 2007. Immediately taken by the clever lyrics and poppy tunes, Say Hi (they've dropped the "to Your Mom" moniker) has easily become one of my favorite bands in the last year. And in subsequent performances, they have never disappointed me in any way. Therefore, when we heard Say Hi were returning to Atlanta, it never occurred to me to not attend, even though the timing conflicted with a particularly busy, pre-SxSW weekend.
When we arrived at The EARL shortly before 10 pm, I was a bit surprised by the relatively full crowd. I hadn't seen anything in the show listing (Explorers Club, Say Hi, and The Features) that led me to believe this would be a particularly big draw. Still, we came in, found a nice place to stand, and waited to see what would occur with the first act, Explorers Club.
Explorers Club is a 6 piece, young-ish band from Charleston, SC, who apparently want to invoke memories of sun and beach. From where I stood, however, this invocation consisted of two primary forms: 70s-esque, semi-maudlin ballads reminiscent of Jimmy Buffet and 60s-esque re-writes of Beach Boys tunes. Of course by "Beach Boys" tunes, the band seemed to show a particular fondness for the likes of Don't Worry Baby and Wouldn't It Be Nice, whose harmonies and pacing practically haunted most of Explorers Club's set. All of this would have been well and good (except for the Jimmy Buffet thing) had Explorers Club showed any really affinity for the material. More specifically, close harmonies are exceedingly difficult to pull off and maintain, and the band really never quite nailed them. Likewise, the key modulations which characterized many of the songs had a side-effect of pitching the tune out of the vocal range of at least one of their two singers. Even then, I perhaps could have shaken off these issues had the band seemed more professional instead of coming off like they were playing at a frat house in front of their 10 friends (Note to band: if audience participation isn't working, don't push it).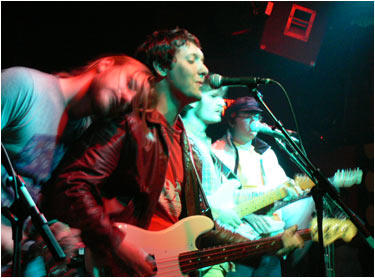 A tender moment in the Explorers Club.
And yet, there was one moment when Explorers Club seemed to pull it together. On one of the next to last songs, their third guitarist, a rather short guy who had focused on just doing harmonies before, stepped up and took over the lead vocals. Ironically, when he sang, the backing vocals improved as his lighter, higher pitched voice seemed more natural in the band's beach-lite music. It was the nicest thing in their entire set. Unfortunately, it was undermined by their last two songs: a maudlin 70s-style ballad. with a different vocalist and two extra people on stage (think of anything by Captain and Tennille, and you're in the right territory) followed by a particularly long and drawn out version of Johnny B. Goode.
After Explorers Club thankfully left the stage, I look around and discovered that The EARL had indeed filled up. As it was rather crowded, and since we wanted to hear Say Hi over the talky crowd, we moved up to the side of the stage, hoping for a better vantage point. This would have worked well, except for the presence a largish group of rather tall men, who stood on the front row (they were eager to see the headliner) and had no interest in sharing their space. Oh well, occasionally in my line of work you have to deal with folks who don't understand basic concert etiquette (Tip 1: if you're over 6 ft tall, you should probably think about letting the short people have a sight line. It's a courtesy thing).
Say Hi took the stage relatively quickly as a two piece. Normally, I've seen them with lead singer/guitarist Eric Elbogen backed with a female synth player and a live drummer. Tonight, they were down the synth player, so Elbogen manned a machine that played loops (including silly handclaps) whilst also maintaining his guitar/vocal duties.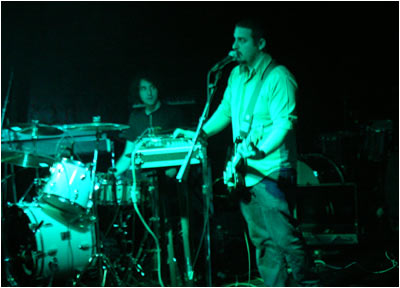 Say Hi to the two member band.
Still, once they began to play, it was exactly as catchy and fun as I remembered. They played a fair amount off their newest album, The Wishes and the Glitch as well as a scattering of tunes across their catalogue, with a particular emphasis on the brilliant Impeccable Blahs. The highlights of their poppy, happy set included a really nice version of Spiders, a speedy version of Pop Music of the Future, and an intense version of Sweet Sweet Heartkiller. Through it all, Elbogen reminded me that stage presence does not necessarily involve dramatic gestures and frenetic physical movement. Rather, a slightly geeky guy bouncing up and down as if he can't stop himself can be enough to induce a silly grin and a thought that seeing someone have so much fun counts for a lot in a live setting. So when the band finished up with one of my favorites tunes, These Fangs, I was perfectly content with what I had just seen. And, to give Elbogen and crew credit, they drew in the somewhat skeptical crowd, so that by the end the whole place was were bouncing around and smiling.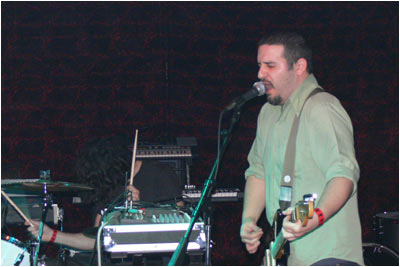 Eric Elbogan does, in fact, want to suck your blood.
Then the crowd packed in a little more in anticipation of the headliners, Tennessee band The Features. So, we decided to move back in the club, hoping for some ventilation and a little bit more room. Of course, in the process, I had a bit of a run in – literally – with another person who needed a lesson in basic concert etiquette (Tip 2: If you're either drunk or in a hurry, and accidentally hit someone up side the head with your elbow and your large dangling purse/bag, the correct action is to say, "I'm sorry. Are you o.k.?" instead of pretending like you didn't notice. That too is common courtesy). So by the time The Features took the stage, my previous cheery mood was deteriorating rapidly in direct correlation to the increasing soreness in my jaw.
The Features have been around a good long time. In fact, I think the last time I had seen them in concert was more than a few years back at the Echo Lounge. In that intervening time, it seems like this band have modified their sound. Previously, they had recalled an Elephant 6 spin off band, filled with quirky key changes and lots of jangling instrumentation. However, on this evening, the music was smoother and more filled out, albeit it a fairly straightforward way. I believe a few years back they opened for Kings of Leon, and I suspect that tour both honed their musical talents while giving them a pathway to a broader audience.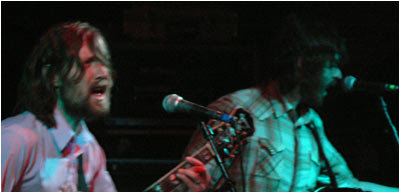 A less jangly Features.
This was in clear evidence on this evening as it seemed like the capacity crowd knew most of the songs and appreciated the versions The Features brought forth. I might miss the jangle-pop of the past, but the easier Indie Rock on display was by no means a disappointment. Think of them as less like Elf Power and more like The Shins, and you'll get my point. Still after just a few songs, the long day behind and the long weekend in the future began to catch up with me, and I was ready to pull myself away from the music and into my bed.
In retrospect, the highlight of the evening was Say Hi. They put on a phenomenal show to a crowd who wasn't familiar with them. As I said earlier, it seemed that they made converts. That in and of itself is the hallmark of a great band. And when it's a great band that I already love, and they manage to erase the memory of a not particularly thrilling opener, then clearly their set was just about perfect.